1.4938, X12CrNiMoV12-3, UNS S64152, M152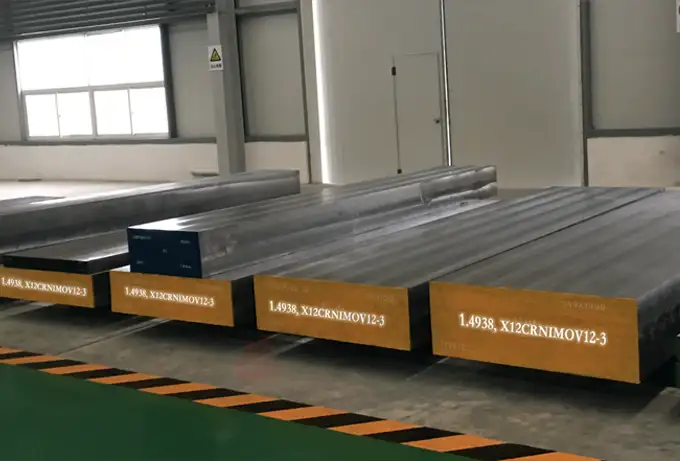 1.4938, X12CrNiMoV12-3 is a high-alloy Cr-Ni-Mo High temperature high strength Martensitic Stainless steel, add of V(vanadium) for carburization with a martensitic structure, which due to high strength properties and significantly increased resistance to oxidation, is used for the production of aviation propellers, especially loaded gears, ball screws, responsible parts working at elevated temperatures such as rotors and turbine blades, bolts in the power industry, pump components as well as coupling parts in aircraft constructions.Unique composition chemical composition ensures high hardenability, great nawęglonej layer parameters (hardness, toughness), and a clear reduction in deformations arising during heat treatment. ESR ( Electro Slag Remelted )
Chemical Composition
Grade
Chemical Composition WT %
C
Mn
Si
P
S
Cr
Mo
Ni
V
N
Jethete® Alloy Steel M152
0.08-0.13

0.50-0.90
Max 0.35
Max 0.030
Max 0.025
11.0 - 12.5
1.5 - 2.0
2.0 - 3.0
0.25 - 0.40
0.02 - 0.04
X12CrNiMoV12-3 MOD(SKODA)
0.08 - 0.15
0.50-0.90
Max 0.35
Max 0.020
Max 0.015
11.0 - 12.5
1.5 - 2.0
2.0 - 3.0
0.25 - 0.40
0.02 - 0.04
1.4938, X12CrNiMoV12-3
0.08 - 0.15
0.4 - 0.9
Max 0.5
Max 0.025
Max 0.015
11.0 - 12.5
1.5 - 2.0
2.0 - 3.0
0.25 - 0.40
0.02 - 0.04
1.4939, X12CrNiMo12, X12CrNiMoN12
0.08 - 0.13
0.5 - 0.9
Max 0.35
Max 0.025
Max 0.020
11.0 - 12.5
1.5 - 2.0
2.0 - 3.0
0.25 - 0.40
0.02 - 0.04
X11CrNiMoN12
0.08 - 0.15
0.4 - 0.9
Max 0.50
Max 0.025
Max 0.015
11.0 - 12.5
1.5 - 2.0
2.0 - 3.0
0.25 - 0.40
0.02 - 0.04
AMS UNS S64152
0.08 - 0.15
0.5 - 0.9
Max 0.35
Max 0.025
Max 0.025
11.0 - 12.5
1.5 - 2.0
2.0 - 3.0
0.25 - 0.40
0.01 - 0.05
Z12CNDV12-03
0.08 - 0.15
0.5 - 0.9
Max 0.35
Max 0.030
Max 0.015
11.0 - 12.5
1.5 - 2.0
2.0 - 3.0
0.25 - 0.40
0.02 - 0.04
XM-32
0.08 - 0.13
0.5 - 0.9
Max 0.40
Max 0.030
Max 0.025
11.0 - 12.5
1.5 - 2.0
2.0 - 3.0
0.25 - 0.40
0.02 - 0.04
Mechanical Properties
1.4939, X12CrNiMo12 / 1.4938, X12CrNiMoV12-3 Mechanical properties +QT900
Tensile strength, Rm: 900 - 1100 MPa
The yield point, Re: > 785 MPa
Elongation, A: >14%
Reduction of area Z %, for information
Impact resistance, KV20℃: > 40 J
UNS S64152 Mechanical properties acc. to AMS 5719 Rev.E
Tensile strength, Rm: min 155ksi(1069 MPa)
The yield point, Re: min 130ksi(896 MPa)
Elongation in 4D min 12%
Reduction of area Z min 30%
Charpy Impact value, Shall be not less than 30 ft-lb (41 J), determined on the V-notched specimen at room temperature.
Hardness: hould be 341 to 375 HBW, or equivalent (see 8.2). Product shall not be rejected on the basis of hardness if the tensile properties determined on specimens taken from the same sample as that with nonconforming hardness or another sample with similar nonconforming hardness, are acceptable
verage Grain Size: Shall be ASTM No. 4 or finer, determined in accordance with ASTM E112
X12CrNiMoV12-3 +QT Mechanical properties acc. to EN 10269
Tensile strength, Rm: 930 - 1130 MPa
The yield point, Re: > 760 MPa
Elongation, A: >14%
Impact resistance, KV20℃: > 40 J
Contraction, Z: >40%
Hardness in softening annealed condition: ~250 HB
Physical Properties
| | | |
| --- | --- | --- |
| Physical Properties | Imperial | Metric |
| Density | 0.28 lb/in³ | 7.75 g/cc |
Heat Treatment
Quenched and tempered to QT900 , minimum tempering temperature : 640 ° C . After quenching the part needs to be cooled long enough to ensure that the martensitic transformation of the microstructure is completed . Stess relieving after bending . Stress relieve temperature : 30-50 °C below last tempering temperature. Min . holding time for tempering and stress relieving : 2 minutes / mm of bar thickness or . diameter It shall be guaranteed that the microstructure is quenched and tempered and homogeneous over the entire cross - section .
AMS 5719E Heat Treatment
Bars, wire, forgings, flash welded rings, extrusions, and mechanical tubing shall be annealed by heating to 1400°F ± 25°F(760°C ± 14°C) maximum, holding at heat for not less than 6 hours, and cooling in air.
Thermal Properties
Welding Properties
Machining Properties
Similar or Equivalents Steel Grade
M152, 1.4938, X12CrNiMoV12-3, 1.4939, X12CrNiMo12, J2, X11CrNiMoN12, UNS S64152, Z12CNDV12-03, XM-32, 10Cr12Ni3Mo2VN, S47250, X13VD